About Us
People often compare plastic and rubber with Polyurethane because it is superior in quality and functionality than these materials. Polyurethane as a raw material is used to make a wide variety of products, from wheels, liners, pads and many more because it has high load bearing ability and longer serving capability. One impressive and amongst the most famous qualities of Polyurethane is it's resistant to heat, chemical, water, scrapping and corrosion. To get perfectly shaped and a variety of Polyurethane Products,
Suryakiran Industries
is the perfect destination for customers.
Formed in the year
2017
at Ahmedabad (Gujarat, India), the company is leading as a Sole Proprietor Company by
Mr. Rajendra
. The company is serving in Indian market as a
Manufacturer
and
Supplier
of
Polyurethane Suspensions, Polyurethane Rods, Polyurethane Hammer,
Polyurethane Coated Rollers
, and other Polyurethane products. These products are designed and developed as per market trends and demands of the customers within scheduled time. The company has hired 10 knowledge experts to well-handle business operations from production to delivery.
Where We Serve The Most?
Polyurethane products are also referred as Urethane Products. These products as discussed above are more functionable and longer serving than rubber and plastic. This property of Polyurethane over others charms various industries which is why we serve our range like Polyurethane Rods, and Polyurethane Hammer in below mentioned industries:
Automobile Industry

Elevator / Escalator Industry
Food Processing Industry
Maritime Industry
Material Handling Industry

Medical & Surgical Industry

Mining & Drilling Industry

Packaging Industry

Plumbing Industry
Power Transmission Industry

Brands We Deal In
Brand name is very important in the modern world because it leads to better marketing, promotion and sales of products. Keeping this in mind, we are marketing and selling our well-designed Polyurethane products under two brand names which are
Suryakiran
and
Martil
.
Why Choose Us?
Suryakiran Industries is a new member in the family of Polyurethane products manufacturers and suppliers but it has complete knowledge of how things run well in this family. We believe in healthy competition which is why we supply all our offerings, Polyurethane Suspension, Sheets, few to cite, at industry leading rates.
Facts which we think will aid us make our distinct identity in the market as follows:
Large product line and good manufacturing facility
Wide variety of products in different designs and dimensions
Dedication to increase satisfaction level of customers
Customized packing to well-meet the needs of customers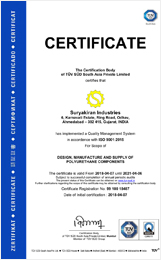 Read More